John Wilks MA RCST BTAA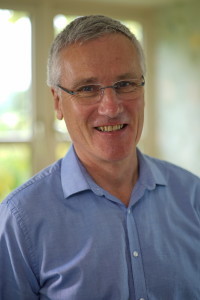 John has been practising the Bowen Technique and Craniosacral Therapy full time since 1995. He is a former chairman of the Bowen Association of the UK, the Craniosacral Therapy Association of the UK and the Cranial Forum. He has taught at the Karuna Institute in Devon and for the Craniosacral Therapy Educational Trust in London. He was accredited by the Bowen Therapy Academy of Australia to teach the Bowen Technique in 1999 and has since then, taught in many countries throughout the world including the USA, South Africa, New Zealand, Germany, Denmark, Portugal, Norway, Israel, Australia, Kuwait, El Salvador, Sweden, Ireland, Austria and France. He was awarded a lifetime membership of the Bowen Therapy Academy of Australia in 2004.
He is the author of several books including Using the Bowen Technique, The Bowen Technique – the Inside Story, Understanding The Bowen Technique, Understanding Craniosacral Therapy, and Choices In Pregnancy & Childbirth. John has also produced DVD's on the Bowen Technique. These are available from www.cyma.org.uk.  John also runs regular health webinars on a wide variety of topics. If you would like more information please visit http://therapy-training.com/.
In 2005 he set up a two year practitioner training for midwives in Craniosacral Therapy at Poole Hospital NHS Trust, the first of its kind to be accredited with the Royal College of Midwives.He has been involved in setting up a number of charitable projects organising therapeutic work overseas, including after the war in Bosnia and El Salvador. He is an Associate of the Royal College of Music, regularly plays in concerts in the south west and in 2005 was awarded a prestigious fellowship of the Royal Society of Arts for his contribution to society. In 2009 he was listed in Tatler's guide to the 250 best private doctors in the UK.
John Wilks works from the following clinics:
Bridport, Dorset (Tel 07866 764 960)
Sherborne, Dorset (Tel 01935 817442)
Castle Cary, Somerset (Tel 07866 764 960)
Phone: 0786 676 4960
Email: cyma@btinternet.com
Website: www.cyma.org.uk