Linda Aryaeenia BSc(OST) MSCCO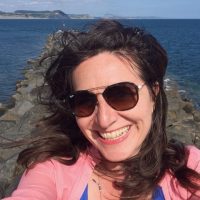 In May of 2019, I fulfilled a lifelong ambition to live closer to the sea and moved from Billericay Essex to beautiful Lyme Regis. I am currently enjoying building up my patient list in Bridport and Lyme Regis, whilst spending my spare time soaking up the fantastic west country landscape.
I began my working life as a Biologist in the pharmaceutical industry. After 3 years working on laboratory-based research, I felt the growing need to work with people more directly. My fascination with how the human body works led me to qualify as an Osteopath in 1993, after completing a four-year full time degree in Osteopathy at the British School of Osteopathy in London.
With an expanding patient base, I established the Brentwood Osteopathic Centre in Brentwood, Essex in 2001, where I worked with a team of highly motivated associates. Thirteen years later, after a brief sabbatical, I downsized my practice to Billericay Essex, in order to focus more on osteopathy and patient care rather than Clinic management.
As an Osteopath I place a high emphasis on prevention and patient education, which might include remedial exercises to adjust posture or advice on diet and lifestyle. I love to work with my patients to solve the problem that brings them to seek help, and I enjoy treating a complete cross-section of patients. I love treating infants to adults of unlimited age, using a variety of Osteopathic approaches. These include Cranial Osteopathy Structural and manipulative Osteopathy, massage and stretching, Classical Osteopathy, Paediatric Osteopathy, as well as Western Acupuncture .
During my osteopathic career I have attended regular postgraduate training courses, including Cranial and Paediatric Osteopathy with the Sutherland Cranial College, and Roland E Becker Institute as well as Medical Acupuncture with Prof Anthony Campbell. I am a member of the Sutherland Cranial College, and the British Osteopathic Association.
I have always enjoyed an active lifestyle, practicing various martial arts and have a passion for dancing. My love of Nature ad the marine environment in particular has had me travelling to far- flung destinations to scuba dive, snorkel and volunteer in some fascinating locations.
Phone: 07580 602 181
Email: linda@linda-osteopathy.co.uk